Cubhub's calendar

knows how to make schedulers, staff, and clients happy.
Improve Client Satisfaction
Reduce Overtime
Avoid Costly Errors
The Cubhub Calendar is another feature that was built to impress and make your and your team's life a bit easier. Cubhub knows how to match each client with just the right field staff member. Each client is seen by a team member who has the right skills and experience to give them the very best in care.
Your team will also receive reminders and alerts that can save valuable time going through reports and making calls. Finally, while internal communication is key to making sure your agency operates smoothly, Cubhub Notes houses all text, email and other communication so everyone is always on the same page.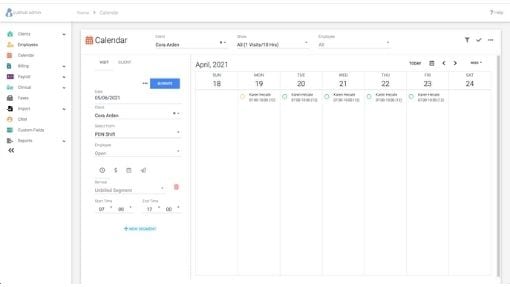 Schedule Smart
Cubhub's powerful calendar tools match staff with clients based on multiple factors for an increase in speed and client satisfaction. No more sifting through files trying to match the needs of the client to skills of the field staff member; Cubhub does it all for you.
When you have the right staff member with the right experience visiting the client, you know you're set up for success.

Friendly HR Reminders
Credential alerts for field and office staff reduce dependence on reports and phone calls. The office is notified one week prior to an employee's credential expiring, and the employee is notified one day prior. No need to run and update reports anymore so mark that task off your list.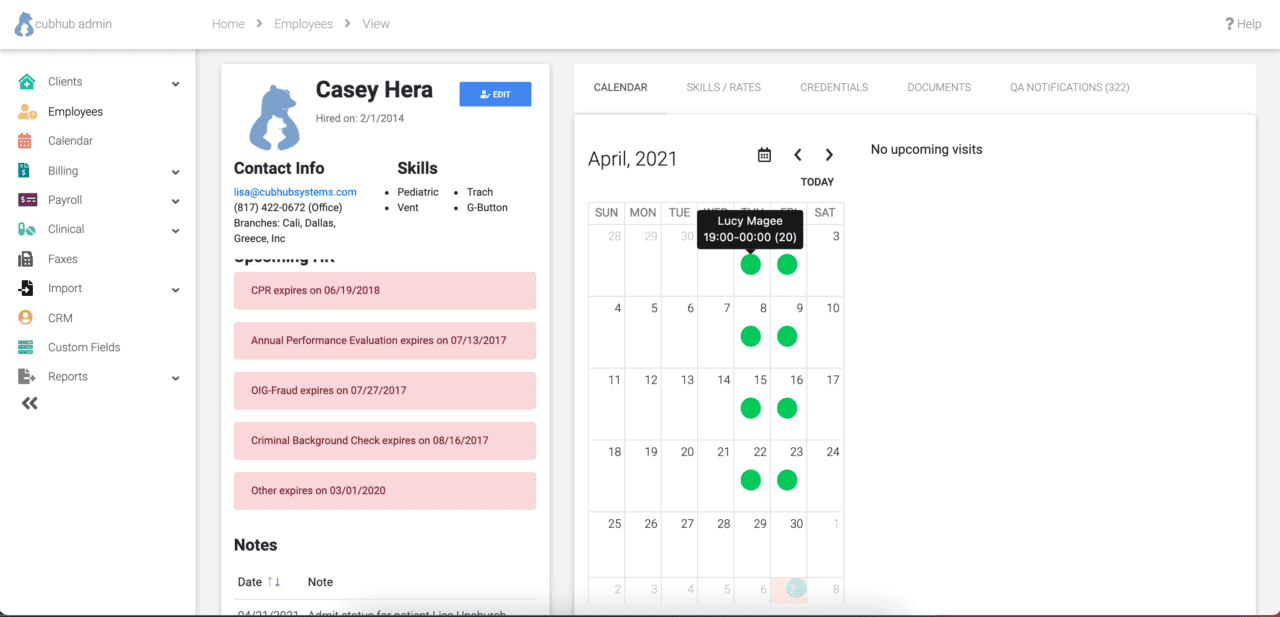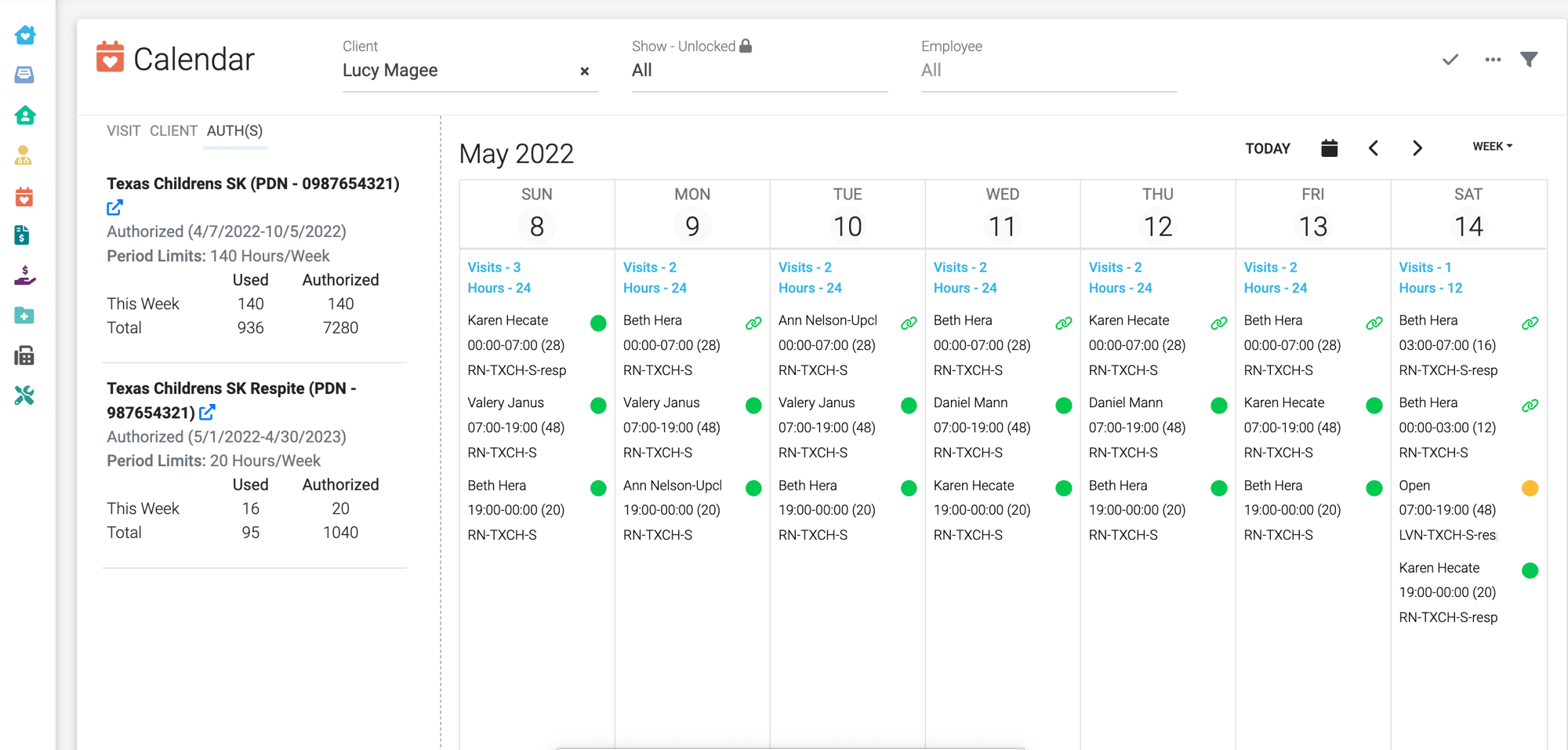 Follow Authorizations and Get Paid
Authorization blocks and alerts make sure you don't do a lot of work for free. If an Authorization has been exceeded, you're notified in real-time. If someone ignores the warning, there are even more alerts when trying to create the claim.

Stay In Touch With Your People
Cubhub Notes, our internal communication tool, along with integrated text, email, and automated messages will keep you in the loop with clients and staff.
Not only does this help everyone stay in the know on the ins-and-outs of a client's care, but having all your communications in one place prevents information from getting lost, or worse, forgotten.
Frequently Asked Questions
Q: Does Cubhub handle EVV for my State?
Yep. We work with each State's aggregator to make sure the info already being captured by our Mobile App and edited by your team is delivered so you can get paid.
Q: Do you have that report I need to run?
Probably. We focus on rich datasets that are perfect for the Excel nerd in your office. Need something you can't find? Let us know and we will work with you.
Q: How do I get financial numbers for my accounting software?
Our Month End Close module is built for any size company. For smaller clients we can help you get up to speed on good accounting practices so that your books stay clean as you get bigger.
Q: How do you keep me from exceeding an Authorization?
We do everything but come to your office and yell at someone. There are hard stops or alerts in every relevant section to keep you within your Auth limits.
Do you generate a 485?
Of course! Once you complete the initial Eval or Assessment we automatically create the Plan of Care, customized Visit notes, Supervisory Visits, and much more.
Can I send Faxes from the system or do I use a separate e-Fax software?
Unlike most EMRs, we have a built-in Fax rather than an integration. This means you get automated workflows at a lower cost with fewer clicks.
Can we use our current forms?
Implementing new software is exciting, so we recommend you use this as an opportunity to evaluate all your systems- including your forms. The point of going paperless should not be to recreate everything you were doing before as a PDF on a computer. We will make sure you capture every data point you or your State auditor may require, but we will help you do it in a truly digital way.
Do you have an OASIS if it is required by one of our payers?
Yes we do. Unlike other systems that focus on Medicare and give you a medicre product for everything else, we offer an amazing system for Medicaid and Private payers while giving you the essential tools you need for patients requiring an OASIS.
Caregiver Schedule App for Streamlined Scheduling
Cubhub is going beyond offering a caregiver schedule app to add to your team by improving efficiency across the business. The app is equipped to send your team reminders to save valuable time. The caregiver schedule app knows how to match each patient with just the right staff member with the best skill set and experience to offer the best patient care by utilizing multiple factors to increase speed and client satisfaction.
Scheduling App to Improve Client and Employee Satisfaction
Done are the days of sorting through files to match the needs of patients to the field staff. Cubhub Caregiver Scheduling App takes care of the heavy lifting for you, by utilizing multiple factors to increase speed and patient satisfaction by matching patients with the most compatible field-staff member. The Caregiver Scheduling app takes the guest work of the best patient, field-staff member saving your agency valuable time and money.
Reduce Overtime with the Right Caregiver Scheduling App
The Caregiver Scheduling App offers authorization blocks to make sure your team isn't working for free. When any authorization is exceeded, your team is notified in real-time. Multiple notifications are sent out if the notifications are ignored. Know you're set up for success and the Cubhub Caregiver Scheduling App is looking out for you.
More Than Just a Caregiver Schedule App
The Caregiver Schedule App is so much more than just an ordinary scheduling app. Caregiver Schedule app keeps your team in the loop. Internal communication is the key to a smooth operation. Cubhub Schedule App houses all texts, emails and other communication so your team is on the same page and preventing information from getting lost or forgotten. The app sends friendly HR reminders for credentialing, reducing dependence on reports and phone calls, saving your business time and money.
Schedule Your Demo Today for a Look Into Cubhub
If you're ready to improve the quality of patient care while improving efficiency and saving money, then it's time to look at Cubhub. Cubhub offers user support, resources and tools to home health care agencies so you can focus on the best care possible for patients.
Take a moment to schedule a demo with our team to see how Cubhub can improve your agency.