Cubhub's
native mobile app

gives staff the powerful clinical tools they need to provide great care, while giving companies massive cost savings.
Save Money
Attract and Retain Staff
Increase Clinical Accuracy
Cubhub is unlike any other Home Care EMR you've used before. Developed by industry experts, Cubhub's HIPAA-compliant software is eager to help your agency save money, make your staff more efficient, and help protect your agency from compliance issues and miscommunications.
While giving each member of your team the ability to use their own phone or tablet while out in the field, you'll save countless dollars on devices and data plans. You'll also enable your team to devote their time and energy to do what they do best, which is providing exceptional care to clients.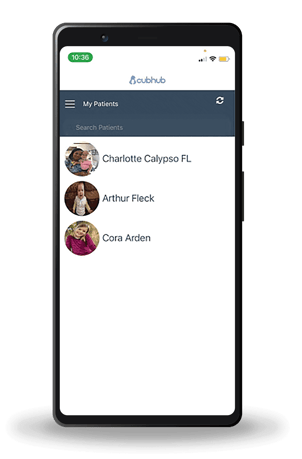 No device deployment required
While other companies require you to purchase devices, Cubhub's BYOD (Bring Your Own Device) allows field staff to use their own smartphone or tablet, saving your company the time and expense of managing devices and data plans.
There's no denying the cost savings here. Worrying about company-owned devices, and the maintenance that comes with them, is now a thing of the past and one less task on your plate.

HIPAA secure documentation and communication
Charting has never been easier. The Cubhub app is HIPPA secure so nurses can document on the go and make sure communication with both the clinic and parents is clear.
Charting on paper can become a legal issue where confidential information can get lost. Having an app that allows for HIPAA-secure documentation means you can worry less about compliance issues and focus on what matters most – your clients. Plus, features such as notes and calendars help to eliminate troublesome miscommunication so you don't spend your valuable time putting out fires.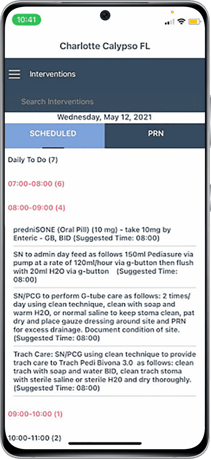 Intuitive design + user's existing device= minimal training required!
Nurses can travel to their patients and have everything they need at their fingertips with their own device. For many of our clients, a 12-hour shift can easily equal an hour or more of charting, which is not always accurate. With the use of a personal device, plus Cubhub's intuitive design and its ability to auto populate, charting can take as little as a few minutes. Nurses can finish their shift, turn in charting, know it's accurate and protect your agency.
When we say minimal training required, we mean it. Believe it or not, most field staff spend less than one hour training on the Cubhub system.

Offline Capabilities
Offline capabilities combine with real time sync to give best of both worlds. Working in areas with poor or no reception can be more than frustrating, they can disrupt your team's entire day. With Cubhub, your field staff can download visit data to their app and work in offline mode so even in these situations, they can continue with their day.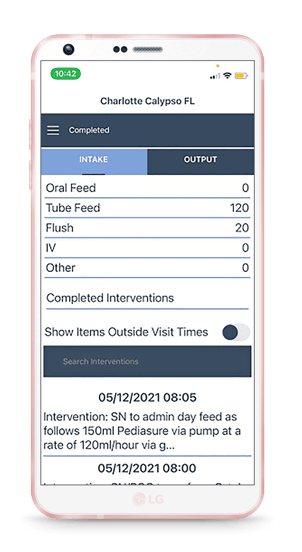 Frequently Asked Questions
Q: Does Cubhub handle EVV for my State?
Yep. We work with each State's aggregator to make sure the info already being captured by our Mobile App and edited by your team is delivered so you can get paid.
Q: Do you have that report I need to run?
Probably. We focus on rich datasets that are perfect for the Excel nerd in your office. Need something you can't find? Let us know and we will work with you.
Q: How do I get financial numbers for my accounting software?
Our Month End Close module is built for any size company. For smaller clients we can help you get up to speed on good accounting practices so that your books stay clean as you get bigger.
Q: How do you keep me from exceeding an Authorization?
We do everything but come to your office and yell at someone. There are hard stops or alerts in every relevant section to keep you within your Auth limits.
Q: Do you generate a 485?
Of course! Once you complete the initial Eval or Assessment we automatically create the Plan of Care, customized Visit notes, Supervisory Visits, and much more.
Q: Can I send Faxes from the system or do I use a separate e-Fax software?
Unlike most EMRs, we have a built-in Fax rather than an integration. This means you get automated workflows at a lower cost with fewer clicks.
Q: Can we use our current forms?
Implementing new software is exciting, so we recommend you use this as an opportunity to evaluate all your systems- including your forms. The point of going paperless should not be to recreate everything you were doing before as a PDF on a computer. We will make sure you capture every data point you or your State auditor may require, but we will help you do it in a truly digital way.
Q: Do you have an OASIS if it is required by one of our payers?
Yes we do. Unlike other systems that focus on Medicare and give you a medicre product for everything else, we offer an amazing system for Medicaid and Private payers while giving you the essential tools you need for patients requiring an OASIS.
Home Health Software Developed by Industry Experts
Welcome to the future of Home Care EMR, the software that thinks the way you think. Developed by leading industry experts looking for a way to address inefficiencies, Cubhub Systems is a platform that was developed to improve patient care by offering provider support, tools and resources, while maximizing profitability. The Cubhub native mobile app is here to make your job easier, improve cost savings and ensure compliance for agencies providing services to Medicaid, Private Pay, Workers' Comp and Private Insurance patients. Cubhub makes it easier to focus on what matters most— the patient.
How Home Health Software Can Save Your Agency Money
Cubhub's native mobile app gives staff the powerful clinical tools needed to provide great care, while offering massive cost savings. Cubhub allows homecare field staff to use their own devices, saving your agency the expense of data plans, maintenance and device costs. Intuitive workflow tools and dashboards cut down on training costs, getting your staff into the field quicker. Cubhub software is programmed to catch costly mistakes that can often be found during charting, scheduling or billing by providing alerts and flagging information. Help your business grow by tracking marketing efforts through the software, allowing you the ability to know where your opportunities are coming from.
HIPAA-Secure Documentation, Plus Increased Clinical Accuracy
Compliance and inaccuracies can cost your business time and money. Rest easy knowing Cubhub is HIPAA secure, allowing on-the-go use and accurate, clear communication for both patient and clinic. The app allows secure documentation to stay private, meaning you can worry less about compliance issues. Charting has never been easier, more efficient and more accurate by utilizing auto-population and smart technology, allowing your staff to focus on providing quality services. Cubhub ensures accuracy in every aspect of your business. Accurate charting, documentation and improved efficiency allows your business to maximize on the efforts that make your business profitable.
Ready to see what Cubhub's Home Health Software can do for your agency?
If you're ready to improve the quality of patient care while improving efficiency and saving money, then it's time to look at Cubhub. Cubhub offers user support, resources and tools to home health care agencies so you can focus on the best care possible for patients.
Take a moment to schedule a demo with our team to see how Cubhub can improve your agency.