Cubhub is built for companies providing services to Medicaid, Private Pay, Workers' Comp, and Private Insurance patients. If your business is not built around Medicare,
why should your software be?
Save Time (Money)
Improve Compliance
Track Performance
In your business, as with most, time equals money, and with Cubhub, you can save some of both. Whether during charting, scheduling, or billing, Cubhub software helps to catch costly mistakes and inaccuracies by providing alerts and flagging information that is deemed incorrect.
You can have peace of mind with Integrated Authorization and Utilization tracking, so you'll know for sure that confidential information remains private from those who do not need access. Cubhub can also help you grow your business by helping you track your marketing efforts, giving you the ability to easily know which outlets are bringing you the most qualified opportunities.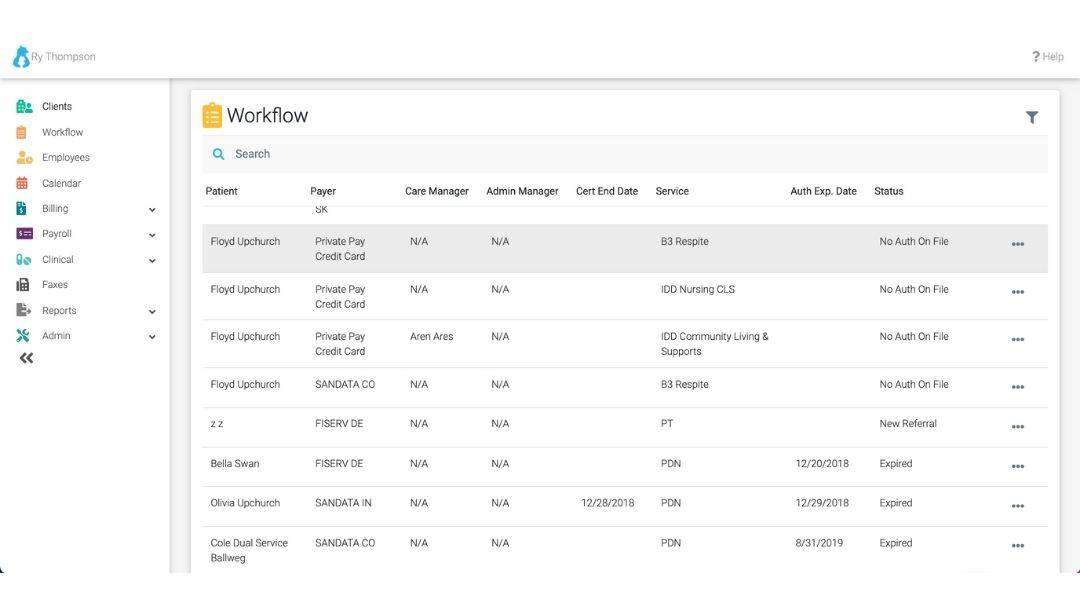 Workflows Based on Auths
Integrated Authorization and Utilization tracking ensures that each member of your team has access to the information they need while keeping confidential information locked from those who don't.
Alerts for clinicians, schedulers, and billers will further ensure accuracy in documentation and claims and keep your agency on track and compliant.

QA Focused on Improvement
Automated QA flags problem visit notes while moving clean documentation to patient charts, reducing the time and expense of touching every note while catching more issues than %-based models. If a team member enters inaccurate information while charting, they will immediately be notified. If your scheduler double-books your field staff, Cubhub will instantly red flag it.
Cubhub has your back while helping to ensure accuracy in just about every aspect of your business. This means more accurate charting and documentation, improved efficiency, and less fires to put out.

Track Marketing Efforts
"Built-in CRM" connects sales teams to referrals and admissions so you always know which efforts are leading to new business. Are your digital ads effective? Should you create or enhance your referral program?
These are questions every agency owner should know. Once you know where you're gaining the most traction, you can focus and maximize on the efforts that make you more profitable.

Integrated Fax
Cubhub's built-in fax engine allows you to send orders and docs without leaving the screen, and automatically routes incoming faxes where they need to go. Making it to the office fax machine is no longer an issue, and you know with confidence that your fax went through.
Frequently Asked Questions
Q: Does Cubhub handle EVV for my State?
Yep. We work with each State's aggregator to make sure the info already being captured by our Mobile App and edited by your team is delivered so you can get paid.
Q: Do you have that report I need to run?
Probably. We focus on rich datasets that are perfect for the Excel nerd in your office. Need something you can't find? Let us know and we will work with you.
Q: How do I get financial numbers for my accounting software?
Our Month End Close module is built for any size company. For smaller clients we can help you get up to speed on good accounting practices so that your books stay clean as you get bigger.
Q: How do you keep me from exceeding an Authorization?
We do everything but come to your office and yell at someone. There are hard stops or alerts in every relevant section to keep you within your Auth limits.
Q: Do you generate a 485?
Of course! Once you complete the initial Eval or Assessment we automatically create the Plan of Care, customized Visit notes, Supervisory Visits, and much more.
Q: Can I send Faxes from the system or do I use a separate e-Fax software?
Unlike most EMRs, we have a built-in Fax rather than an integration. This means you get automated workflows at a lower cost with fewer clicks.
Q: Can we use our current forms?
Implementing new software is exciting, so we recommend you use this as an opportunity to evaluate all your systems- including your forms. The point of going paperless should not be to recreate everything you were doing before as a PDF on a computer. We will make sure you capture every data point you or your State auditor may require, but we will help you do it in a truly digital way.
Q: Do you have an OASIS if it is required by one of our payers?
Yes we do. Unlike other systems that focus on Medicare and give you a medicre product for everything else, we offer an amazing system for Medicaid and Private payers while giving you the essential tools you need for patients requiring an OASIS.
EMR Software System Built Around Medicaid Patients
Cubhub is the EMR software system built specifically around Medicaid-focused agencies. Cubhub is the first and only EMR software system to handle both scheduling and charting while providing the functionality to operate in all facets of the business. Customized billing, scheduling, charting and documentation makes Cubhub emr software system the perfect solution to your agency's needs.
EMR Software System to Save You Time and Money
When it comes to time and money, there never seems to be enough. Cubhub is the EMR software system here to save you both. Cubhub EMR software catches potentially costly mistakes often found in billing, scheduling and charting. It's advanced technology flags inaccuracies and provides alerts and notifications when information is incorrect. Cubhub EMR software ensures accuracy in every part of your business, which means your business spends less time correcting costly errors, saving you time and money.
How You Can Improve Compliance with an Upgraded EMR Software System
Improve compliance with Cubhub's upgraded EMR software system. Integrated authorization and utilization tracking to keep confidential information private from those who do not need access. Cubhub offers integrated authorization and utilization tracking to help confidential information locked to unauthorized users. The EMR software sends alerts to ensure accuracy in documentation and claims to keep your business compliant.
EMR Software System to Help Track Performance and Success
Cubhub tracks performance and success with its own "Built-In CRM" software to connect sales team to referrals so you know which efforts are leading to more business. Track marketing efforts through the EMR software to help you grow business by tracking marketing efforts, giving your agency the ability to make informed decisions based on data and analytics.
Schedule a Demo of Cubhub's EMR Software System Today
If you're ready to improve the quality of patient care while improving efficiency and saving money, then it's time to look at Cubhub, the industry- leading EMR Software System. Cubhub offers user support, resources and tools to home health care agencies so you can focus on the best care possible for patients.
Take a moment to schedule a demo with our team to see how Cubhub can improve your agency.